Hyper Turbo-X - maximum rate with maximum precision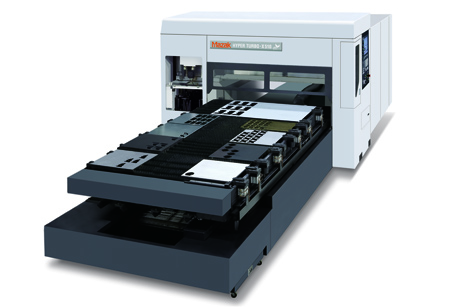 HTX is a high quality 2D laser machine tool for precision cut designed specifically for small and medium production batches. The concept of mobile bench also providesexcellent access to ready products from 3 sides.  HYPER TURBO-X has all the typical advantages of the base SUPER TURBO X system: Extreme ease of use, laser cutting of various materials of various thicknesses with one-time retooling and machining exhibiting high precision at minimum floor space. Use of hybrid linear motors allows to increase machining accuracy at high speeds even more. Naturally, also Hyper Turbo X model uses the principle of constant beam length.  Moreover, numerous intelligent functions allow even inexperienced operators to conduct laser cut with high accuracy and efficiency.
HTX comprises extremely compact machines equipped with all the components packed into one body.  This minimises the vibrations, thus achieving maximum production efficiency.
Variety of automatic functions allows even inexperienced operators to achieve optimum productivity and quality.
The very first CNC machining tool of this type in the world – high-speed control analyses all the movements
MAZATROL PRE VIEW - intelligent control system with hybrid linear motors
Traditional control concepts are based on feedback, in which the greater the cutting speed, the lower its accuracy. Problems related to Feedback systems:  - not necessarily completely round forms, blurry edges due to high temperatures, burning of thin galvanized metal sheets and other materials.
Yamazaki Mazak developed programming technology based on their new theories read-ahead.
Cutting speed and acceleration are calculated automatically by software for each point individually. Optimum speed and required performance are calculated in advance for a next cutting point. This is a latest generation CNC system that allows achieving maximum speeds and precise effects of cutting.
Innovative functions of Hyper Turbo X
Protection against errors during cutting
Cutting error warning
Restart after cutting failure
These functions prevent outages in case of failure, even before it occurs, thus enabling many hour operations. As soon as machine tool sends the warning, it is restarted in no time, which prevents unproductive dry runs.
The machine can be used for processing the following sheet formats:
Large-size format: 3000mm × 1500mm
Die Maschine ist für folgende Blechformate erhältlich:
Großformat: 3000mm × 1500mm
Smart change of cutting heads

Up to 6 cutting heads (e.g. laser cutting head, engraving, splintering head) can be located in cutting head storage. 
 
Automatic head change takes only approx. 20 second, thus minimizing retooling time.

Smart change of nozzles

Nozzle storage (10 cutting nozzles) executing the program aligns fully automatic optional nozzle on the head.
Automatic nozzle change takes only approx. 20 second, thus minimizing retooling time.

Smart control of nozzles 

Nozzles are fully automatically checked for damages, and automatically cleaned and replaced, if necessary.

Smart piercing 

Piercing is conducted as a part of mobile system and is monitored with sensors 

Intelligent control of cutting errors

The cutting process is continuously monitored, and movements are automatically adjusted in order to prevent beam break-off.

Intelligent automatic detection of contaminants of mirrors and lenses

If needed, laser machine tool exchanges the head automatically with another of the same lens in order to avoid unnecessary outages. The operator can then clean contaminated lenses during operation of the machine tool.

Intelligent compensation of beam length

The laser beam is maintained in a permanent way with U axis at the same length in order to, with minimum effort, maintain maximum constant quality in all the points of the table. 

Intelligent laser beam length optimization system

Thank to using additional U axis (for compensation of beam length), laser beam is kept in such a manner to provide constant focal point, and hence the same cutting conditions for the whole sheet.

Intelligent measurement & setting focal point

After cleaning the cutting lens, the machine automatically sets a reference focal distance.

Intelligent CNC system prevents the movement (Read-Ahead)

Control adjusts cutting parameters to a given contour. This helps to prevent burning of sharp edges due to overheating.

Intelligent linear motors (for X1, X2, Y, Z & U axes) of the latest generation

Hyper Turbo X is a first laser machine tool driven on all the axes with linear motors. Non-contact service requires minimum maintenance and provides the highest precision and best acceleration parameters.
Linear motors are placed inside hermetic housing and maximally protected against external factors (contaminants, dust). 
Thanks to optimized cutting conditions even inexperienced operator can automatically machine any materials, thick and thin, including galvanized ones, all thanks to diversity of smart functions of 2D laser machine tool of Hyper Turbo X series.
Conveyer provides alignment of sheets and optimum access
Automatic head exchange storage for 6 heads
Automatic nozzle change storage
64 bit Preview control
Intelligent functions
CAD / CAM software
Belt conveyor for small elements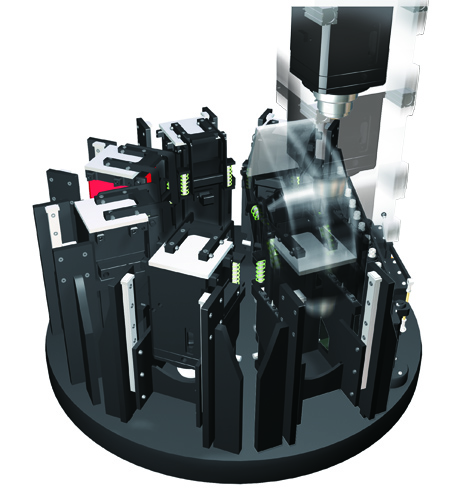 Possibility of using automation – all the Mazak laser machine tools as a standard have a module design that can be handled with automation. At any moment, they can be upgraded with automation module.
Automatic shutdown – if needed, allows to stop and shutdown the laser machine tool.
Extraction-filter system
Flat heat for deepening pre-cut holes
Heads for screw cutting M3-M10