Optiplex Fiber II – new fibre lasermachine by MAZAK – perfect for machining thin metal sheets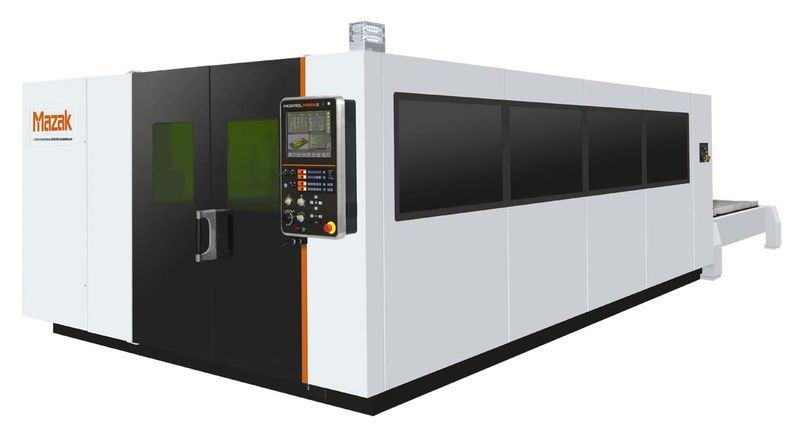 Optiplex Fiber II is a 'fibre' cutter that shows its advantages in machining thin sheets.  In comparison with traditional CO2 laser machine tools, MAZAK fibre laser cutters can increase throughput by as much as 30%. Moreover, in contrast to CO2 laser machine tools, they can be used with ease for machining of copper, brass and aluminium.  Despite the fact that Optiplex Fiber has an exchangeable frame, it is very compact. In case of large-size laser machine tools, floor space is only 8.4m x 3.5 m.
Model type

Optiplex Fiber II

Laser power

2.0 kW / 4.0 kW / 6.0 kW

Equipment

1 cutting head with round glass
Focal lens 125mm
3 cutting nozzles with adapter
Automatic shut-down function
Automatic pallet exchanger (change time:19s)
Automatic changer of cutting gas
High pressure system
Automatic material identification
MAZATROL Preview 3 Software
Available table dimensions
| | |
| --- | --- |
| Optiplex 3015 | 3000mm x 1500mm |
| Optiplex 4020 | 4000mm x 2000mm |
Higher throughput for thin sheets
Copper, brass or aluminium undergo much more stable machining than in the case of CO2 machine tools.
Maintenance costs are greatly reduced due to the fact that beam is conducted via optic fibres and not optic systems.
Environmental protection
Resonator consumes up to 80% less energy than resonator of CO2 machine tool.
Cooling module also consumes up to 80% less energy.
No use of laser gas
Cutting nozzles of various diameter
125 mm lens
200 lens mm:
Extraction-filter system
Belt conveyor for small elements
worklifter with conveyor