Optiplex 3015 / 4020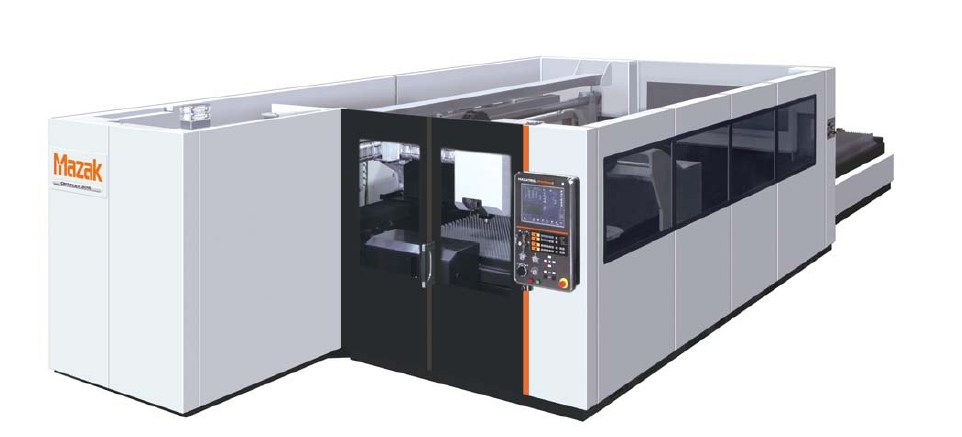 Flying Optics - optical system
Using Mazak 2D Optiplex laser machine tool has set new market standards in the field of laser technologies.  Optiplex is a new yardstick in terms of velocity, precision and profitability. MAZAK machine with the state-of-the-art MAZATROL PREview 3 software with touch screen has the premium smart functions that would allow even less experienced operators to make ideal laser cuts.
Each component is valuable
Automatic machine tooling between material changes in case of standard version 3015 machine tool is automatic, making operator intervention unnecessary. This greatly decreases tooling time, as well as operator workload. Optiplex machine tool in standard version is equipped with automatic exchanger of heads and nozzles. The complete retooling of the machine depending on material type and thickness is fully automatic and takes less than 40 seconds.  No operator intervention is needed.  As all the models of Mazak laser machine tools, standard Optiplex model is also equipped with various sensors preventing errors during cutting.
IMS - Intelligent monitoring system
Intelligent functions are developed in such a manner to, on the one hand, automate previously manual setting, while on the other to prevent longer outages.
Mazak Optiplex laser machine tool as a standard is equipped with a plasma sensor - used for determining plasma level in cutting stainless steel. The machine then adjusts the automatic cutting settings in order to avoid 'break off' of the laser beam. Moreover, there is an ongoing piercing going on. Piercing Sensor greatly reduces the time of piercing and machining of components.
While Burning Sensor prevents cutting faults, which could result from excessive material heating, by detecting them in time and implementing applicable measures.
Completely new cutting head is designed in such a manner to eliminate manual adjusting of nozzle centre. In combination with automatic nozzle exchangers this decreases the retooling time, which also makes the work of inexperienced operators easier.
ECO concept
For Optiplex laser machine tool the most important is an economical aspect. Consumption of laser gas in this case was reduced by almost 50% in comparison with other machine tools, while for air it is approx. 40%.
 Model type

Optiplex 3015 / Optiplex 4020

 Laser power

2.5 / 4.0 / 6.0 kW

 max. dimensions of machined element

3015:    max. 1525mm × 3050mm 
4020:    max. 4025 mm x 2050 mm

 max. material thickness

FE up to 20mm (2.5kW) 25mm (4kW/6kW)

 X/Y/Z axis advance

3100mm, 1580mm, 100mm

 X/Y/Z advance rate

120,000 mm/min, 60.000 mm/min

 Adjustment accuracy (X/Y)

±0.05 / 500mm

 Adjustment accuracy (Z)

±0.01 / 100mm

 Machine size

3015: 9.905mm × 3.485mm
4020: 12.600mm × 4.048mm
Smart nozzle change (max. capacity – 8 nozzles) 
Smart change of cutting heads (capacity – 2 heads) 
Cutting head 7.5" Servo Fokus 
Cutting lens 7.5"  
3 cutting heads with IMS adapter 
Automatic shut-down system 
Automatic pallet change (change time: 19s) 
Automatic calibration of focal length  
Automatic change of cutting gases 
High pressure system 
Automatic determination of material length  
MAZATROL Preview 3 control
Laser automation due to MAZAK CELL/FMS navigation
cutting head 5" + cutting lens
Conveyer with worklifter
Belt conveyor for small elements
High-performance extraction system