Super Turbo-X - minimum floor space, maximum efficiency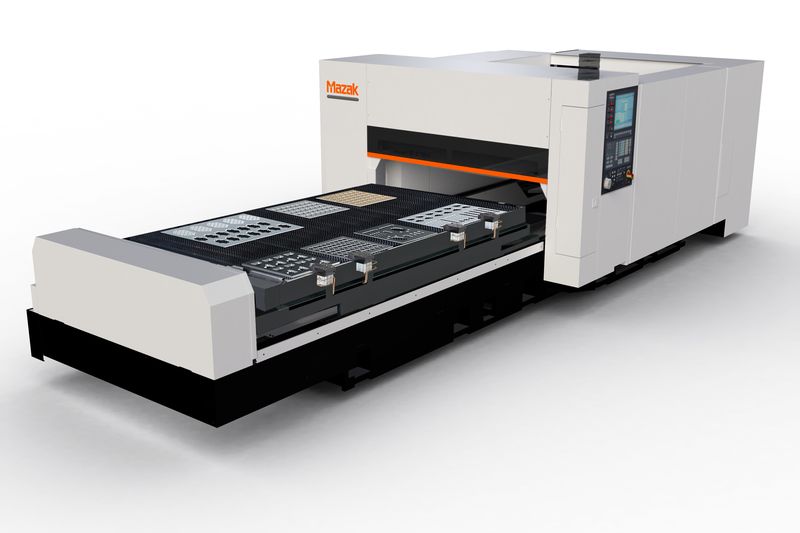 MAZAK Super Turbo X is an universal extension of proven so far machines of series Super Turbo- X Mark III. Thanks to keeping proven components, their combination with the newest solutions in the field of laser and drive technology, a new compact laser machine tool representing state-of-the-art was created. Mazak Super Turbo-X meets all the requirements in terms of productivity, versatility and profitability.
SUPER TURBO-X - hybrid 2D laser machine tool of the newest generation for versatile application
Use of the revolutionary beam direction system allows use of it in such cases that until now could have been only handled using extremely efficient and expensive laser machine tools. This beam directing system is defined as relocation of a beam, during which the laser beam rotates in the same rotation point after leaving the resonator. Other rotary directing mirror placed over Z axis reflects the beam towards optical system. Beam length in the entire working area is relatively constant.
High mechanical precision of the guiding system using hermetically closed spindles and linear guides allow the highest machining rate to be achieved, while maintaining maximum accuracy of each element. Super Turbo-X laser machine tool operation costs are much lower in comparison to conventional machine tools.
Individual laser machine tools can be easily enhanced after the installation by FMS, if necessary, due to manufacturing requirements. Laser machine cut STX2412 thanks to its floor space dimension (6.5m x 2.6 m) is the smallest laser machine tool on the market for medium metal sheet forms, while STX3015 (7.3m x 2.9m) in the smallest one for large-size sheets.
The most compact laser machine tool for non-standard formats.
Super Turbo-X series is the most compact laser machine tool in the market for standard forms, which makes it a perfect choice for small plants.  Due to the diversity in terms of automation, it can also be successfully used for mass production.
Unmovable – Takumi Frame
Machine frame / bed Takumi comprises various elements from steel sheet of thickness 2.3 to 13 mm, cut with very high precision using Mazak machine tools. These components are equipped with eyes and holes, required for installation.
Some of these components have slits reinforcing rigidity of the structure by placing new wedges inside them (this method of installation is represented in the name "Takumi". This word is virtually untranslatable to any other language with just one word.  Its general meaning is high precision, so characteristic for Japanese artisans manufacturing wooden products at homes or monasteries using traditional production technologies. Wooden components are processed with so high accuracy, that they dos not require connecting element, i.e. screws, nails or adhesives.)
Perfect access
Cutting benches of STX series thanks to hybrid linear drive are accessible from three sides, thus are perfect for prototypes or small product batches. Optical system installed in front of the machine enables access to table in the minimum time. Moreover, the conveyer enables optimum distribution of material. Thanks to the conveyer, handling even think materials becomes child's play.  Pneumatically controlled rolls transfer material using gripping ends to cutting bench of laser machine tool and ensure optimum material alignment.
OPT i – POD
New MAZAK Optipod is a new solution for STX series. There are 3 different setting of laser machine tool that help to significantly reduce retooling time and make the operation safer.
Automatic measurement of focal distance
Automatic measurement of focal distance significantly decreases retooling time. It is used to, after mounting adjustment lens, automatically measure the location of focal length and compare it with machine control.
Manual adjustment is not required
Automatic change of nozzles
This function helps to significantly reduce nozzle change time in case of material change.
No additional adjusting required.
Automatic nozzle cleaning
Lower frequency of necessary service by user
IMS - Intelligent monitoring system
Intelligent functions are developed in such a manner to, on the one hand, automate the previous manual setting, while on the other to prevent longer outages.
Mazak STX laser machine tool, as a standard, is equipped with plasma sensor, used for determining plasma level in cutting stainless steel. Machine adjusts then automatic cutting settings in order to avoid "break off" of laser beam. Moreover, there is an ongoing piercing taking place. The piercing Sensor reduces greatly time of piercing and machining of components.
While the Burning Sensor prevents cutting faults, which could result from excessive material heating, by detecting them in time and implementing applicable measures.
Completely new cutting head is designed in such a manner to eliminate manual adjusting of nozzle centre. In combination with automatic nozzle exchangers this decreases the retooling time, which also makes the work of inexperienced operators easier.
Available laser power:
2500W / 4000W
Verfügbare Tafelformate
Available sheet formats
| | |
| --- | --- |
| Type | Installation parameters |
| STX2412 (medium format) | 6650mm × 2600mm |
| STX3015 (large-size format) | 7300mm × 2900mm |
| STX4020 (super format) | 9300mm × 3350mm  |
Standard equipment of laser machine tool includes:
Automatic adjustment of focal length
OPT i - POD
Fast puncturing system
Automatic change of cutting nozzles
Burning Sensor
Piercing Sensor
Plasma Sensor
High pressure system
Mazak Preview 64 bit control with programme supervision and LAN/USB connector
2D CAD/CAM software
High-performance extraction-filter system
Currently, laser machine tool can be additionally equipped with fully automated loading and reloading unit like of MAZAK Laser CELL or MAZAK FMS type.
More information: