STX 44 - the most compact CO2 laser in the market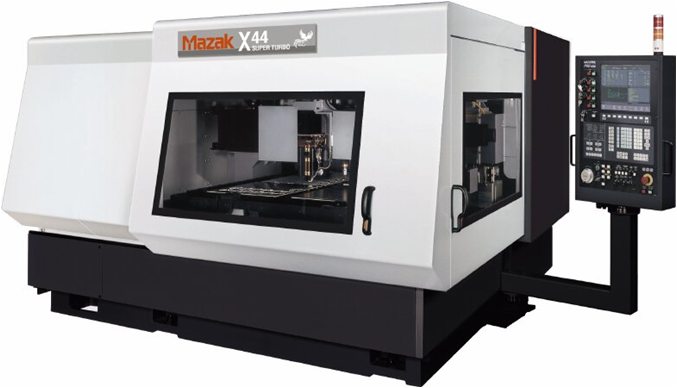 SUPER TURBO- X 44
Compact machine with maximum speed – maximum efficiency using minimum space makes STX-44 machine tool an affordable, compact laser machining system that enables machining of various forms and materials at low cost and the machining of diverse materials of various thickness in non-stop mode without change of machine tool accessories.  SUPER TURBO X44 laser machine tool ensures maximum efficiency in minimum space.  STX44 laser machine tool is a perfect choice for manufacturing halls with limited area due to the small floor space it takes (approx. 4m x 4m).  Laser machine tools provide performance at levels of 1.8KW, 2.5KW, 4.0KW so they satisfy all the requirements of machining.
Overview of selected advantages of laser machine tools:
Bench format: 1.25m × 1.25m
Minimum floor space 4m x 4m
No retooling for change of material required.
Mazatrol 64 bit control with programme supervision and LAN/USB connector
Capability of cutting non-metal products, as plastics, wood, cardboard. 
| | | |
| --- | --- | --- |
| Machine model |   | Super Turbo-X44 |
| Type |   | Movable optical system |
| max. size of machined element |   | 1250 × 1250mm |
| max. loading capacity (2.5 kW / 4 kW) |   | 275/315kg |
| Bench height |   | 900mm |
| Axis advance path | X/Y: | 1,270mm |
|   | Z | 135mm |
| Speed of quick advance | X/Y: | 24m/min |
|   | Z | 25m/min |
| Cat. |   | 8900kg |
CAD / CAM software
Cooler
Mazak Preview Control
Cutting head with 7.5" lens
Lighting of working area *²
Spare nozzles
Lens cleaning set
Highly efficient exhaust system
High pressure system
Automatic shut-down