Laser cutteing machine STX Mark III RTC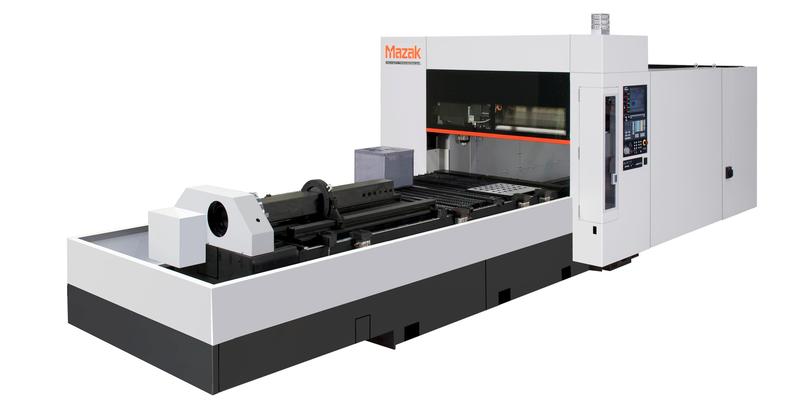 SUPER TURBO- X MARK III RTC - hybrid 2D laser machine tool of the newest generation for versatile application
MAZAK TURBO- X MARK III RTC is a universal extension of proven so far machines of series Super Turbo. By increasing the range of 2D machining of metal sheet, Z axis of height 430mm, as well as threading unit and reamer meets all the requirements in terms of productivity, versatility and profitability.
Tapping unit and reamer of STX Mk III RTC series
Automatic tapping unit allows execution of threads of sizes from M3 to M10 in one cycle. No retooling required. Reamer moreover enables deepening of pre-cut holes.
The use of the revolutionary beam direction system allows use of it in such cases that until now could have only been handled using extremely efficient and expensive laser machine tools. This beam directing system is defined as relocation of a beam, during which laser beam rotates in the same rotation point after leaving the resonator. Other rotary directing mirror placed over Z axis reflects the beam towards optical system. Beam length in the entire working area is relatively constant.
Rotation axis of tubes and profiles and extreme advance of Z axis
The laser machine tool stands out mainly by the height of Z axis for processing of pre-formed metal sheet components, such as switchboards; rotation axis for laser processing of tubes of diameter from 20 mm to 375 mm.
| | |
| --- | --- |
| Type | Installation parameters |
| STX510 MkIII (large-size format) | 7900mm × 2900mm |
OPT i – POD
New MAZAK Optipod is a new solution for STX Mk II series. There are 3 different setting of laser machine tool that help to significantly reduce retooling time and make the operation safer.
Automatic measurement of focal distance
Automatic measurement of focal distance significantly decreases retooling time. It is used to, after mounting adjustment lens, automatically measure the location of focal length and compare it with machine control.
Manual adjustment is not required
Automatic change of nozzles
This function helps to significantly reduce nozzle change time in case of material change.
No additional adjusting required.
Automatic nozzle cleaning
Lower frequency of necessary service by user
IMS - Intelligent monitoring system
Intelligent functions are developed in such a manner to, on the one hand, automate previously manual setting, while on the other to prevent longer outages.
Mazak STX Mk III laser machine tool is equipped with plasma sensor, as standard, used for determining plasma level in cutting stainless steel. The machine then adjusts automatic cutting settings in order to avoid "break off" of laser beam. Moreover, there is an ongoing piercing taking place. Piercing Sensor reduces greatly time of piercing and machining of components.
While Burning Sensor prevents cutting faults, which could result from excessive material heating, by detecting them in time and implementing applicable measures.
Completely new cutting head is designed in such a manner as to eliminate manual adjusting of nozzle centre.  In combination with automatic nozzle exchangers this decreases the retooling time, which also makes the work of inexperienced operators easier.
Max. size of machined elements

        

1525mm × 3050mm

Bench height

 

900mm

Advance route of X axis

 

3,260 mm

Advance route of Y axis

 

1,545 mm

Advance route of Z axis

 

430mm

Speed of quick advance   

X/Y: 24m/min

Z: 25m/min

Max. cutting speed

 

24m/min

Adjustment rate   

±0.01mm/500mm (X/Y)

±0.01mm/100mm (Z)

Accuracy of repeatability

 

±0.005mm (X/Y/Z)

Machine weight

 

12,900kg
Tapping Unit Specification
| | |
| --- | --- |
| Storage | max. 6 taps |
| Automatic | change |
| Rotational speed (rpm)                            | 1,500 |
| Thread | M3/M4/M5/M6/M8/M10 |
Axis of rotation specification
| | |
| --- | --- |
| Jaws | Manual rotation axis with 4 jaws |
| Clamping area | ø20-375mm |
| Jaws diameter         | ø152.4mm |
| min. length of machined element | 170mm |
| max. length of machined element | 3,200 mm |
| Profile cross-sections | Round/square tube |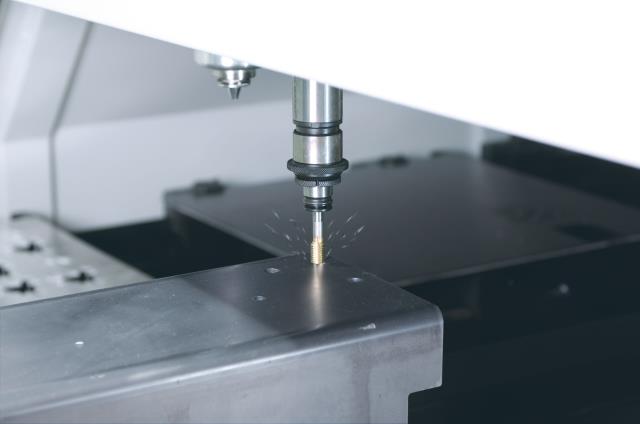 Standard equipment of laser machine tool includes:
Automatic adjustment of focal length
OPT i - POD
Fast puncturing system
Nozzle cleaning system
Automatic change of cutting nozzles
Burning Sensor
Piercing Sensor
Plasma Sensor
High pressure system
Mazak Preview 64 bit control with programme supervision and LAN/USB connector
2D CAD/CAM Software + CAM tube machining
Z axis with 430 mm advance
Axis of rotation for pipes of diameter from 20mm to 375mm
Threading module wit 6 blades (M3-M10)
Threader breaking safety
Tapping unit
Conveyer
Belt conveyor for small elements
Automatic element clamping/adjustment
Protective cover
Highly efficient extraction system
High pressure gas system
Automatic shut-down system
Currently, laser machine tool can be additionally equipped with fully automated loading and reloading unit like of MAZAK Laser CELL or MAZAK FMS type.