Space Gear U44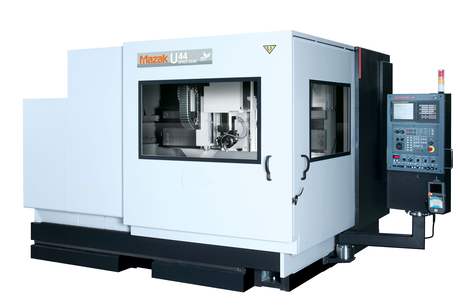 Space Gear U 44 - most compact 2D / 3D laser machine tool on the market
Thanks to being unusually compact SPACE GEAR U44 2D/3D laser machine tool you get more capabilities than ever: From simple machining of flat sheets to comprehensive machining of 3D elements – it all can be achieved by simultaneous significant increase in profitability – thanks to smaller floor space and minimum investment effort.
Just as in the case of Mazak Space Gear 48/510, programming is conducted using special CAD/CAM software developed specially for this machine. It allows the programming of comprehensive 3D models. The same is true for clamps for mounting element on laser table.
Available from stock, also with CNC advancement of tube axis!
Overview of selected advantages of 2D/3D laser machine tools:
Compact cast framework
2D cutting up to size of 1250mm x 1250mm 
3D cutting up to size of 900mm x 900mm x 300 mm
Tube axis with automatic clamps for tubes/profiles of 160mm cross-section (optional)
Automatic tube advanced (autofeeder – optional)
64-bit CNC with macros storage function
Minimum floor space, approx. 5m x 4m  
Possibility of processing non-metal products (plastic, wood, cardboard, etc.)
64Bit control 
5-axis cutting head
Cutting table
Cooler
CAD / CAM software
Robofeeder - automatic advancement of tubes with cross-section up to 150mm and up to length of 6m