Flexible Manufacturing System (FMS)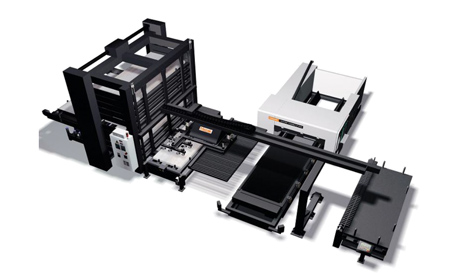 Our famous Flexible Manufacturing System (FMS) helps manufacturers to improve their competitiveness. Great differences in production costs depend on general cost of employment.  Thanks to FMS, these costs might be reduced to provide manufacturer with global competitiveness.
FMS, as a part of control, supplies the laser machining tool in appropriate material from automated storage, and then removes using scraper, ready, cut metal sheets. Connecting fully automated metal sheet storage to an loading/unloading station helps to save the time wasted on material handling. The storage can be loaded at any time, also when up to 4 machining tools are served simultaneously.
General features
Relatively low purchase price due to fast amortization
Possibility of installation in Mazak machine tools at later time
Possibility of equipping 4 machines with automation
Operator involvement is not necessary
Storage column for metal sheet on request; in standard with 10 or 20 palette capacity